Welcome to the What's Up Wednesday for October. I looked back to see what I had written about in previous Octobers and this is actually the first time I've done a WUW post for October. Huh.
What we're eating this week...
Dave has been gone on a work trip since Monday so we're all about the easy suppers this week -- eggs on toast, tuna noodle casserole, and tacos. Tomorrow night we're eating out because Dave's work has trick or treating and I won't have time to cook before regular trick or treating. After tomorrow, we'll be eating candy for the rest of our lives. Ha!
What I'm reminiscing about...
I've been reminiscing about past Hallowe'en costumes.
I was 37 when Sam was born and I'd always dreamed about dressing my baby up as a pod of peas. I have no idea why I was so fixated on that particular costume but I was so happy on Hallowe'en 2009 when my pod of peas dreams came true. And then we dressed Rachel up as a pod of peas for her first Hallowe'en in 2011 too!
In 2010, eighteen month old Sam dressed up as a lion. Tessa and Willem (good friends of ours) were Gryffindors.
excellent
Russel Martin.
Thanks for taking this walk down Hallowe'en memory lane with me :)
What I'm loving... I am loving our fall colours! I am also loving the fact that it was sunny (or at least, not raining) for the past two days so I got lots of laundry hung out. I squeeze every laundry hanging moment I can out of our weather.
What we've been up to...
Our fall activities are definitely in full swing -- Rachel has four different dance classes and both kids have piano. Then Sam has signed up for two new activities -- once a week he plays basketball and once a week he attends a "sports night" at the school. We are basically on the go most of the time. It's busy but I also know it's just a season and it will be over before I know it.
What I'm dreading...
I'm dreading November. Unlike, Americans, we Canadians have already celebrated Thanksgiving and there's just not a lot going on. Plus, I am dreading the time change. I already hate the dark and now it's going to get dark even earlier. WHY???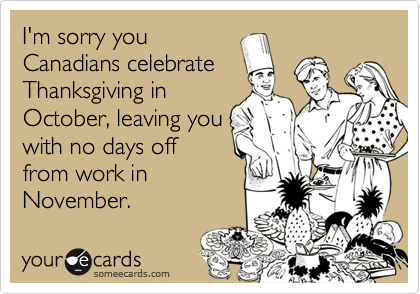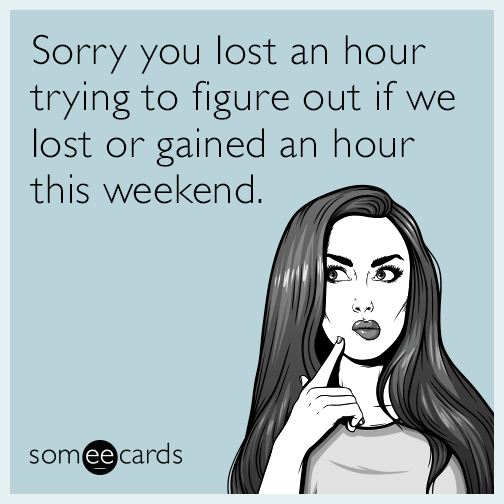 I grew up in a province where we didn't mess with our clocks
ever
so I still don't get this whole time change concept.
What I'm working on...
I've been working on Hallowe'en costumes for this year and getting ready to worship lead at church on Sunday. Thankfully both of those things are almost done.
I've also been working on reading all the library books. Why are they always all due at once?!?!
My current stacks of library books.
What I'm excited about... Dave has been away for work training and hasn't been home since early Monday morning. He gets home tonight and I can't wait! Also, I'm excited about Rachel's Hallowe'en costume this year :)
And on Saturday, WE GOT TICKETS TO SEE HAMILTON!!!!!!!!!!!!!! We're not going to see it until May 2020 but I'm still excited about it.
What I'm watching/reading...
This past weekend was Dewey's 24 Hour Readathon. You can read more about it
here
if you're interested. Anyways, you can read the reviews of the books I read in this post
here
.
As for watching, I've been watching World Series baseball and our leaves changing colours. Fun times :)
What I'm listening to... I've been listening to the sound of fall leaves rustling beneath my feet. I'm constantly looking down at all the leaves. I just love this time of year!
What I'm wearing...
Slippers. Pictured below are my slippers and Sam's slippers. Do you know how hard it was to find slippers for a boy between sizes 1 and 6? I looked in about a dozen stores and finally got help from my Facebook friends. These are from LL Bean.
Sadly, my slippers have holes in them so I think I will soon be on another slipper hunt. These came from Costco and I LOVE them but I don't think Costco carries them any longer. Boo.
What I'm doing this weekend... This weekend I'm worship leading at church on Sunday and hosting my book club on Sunday night. Other than that, we'll probably just enjoy a quiet weekend. Yay!
What I'm looking forward to next month... Nothing. Ha! There is seriously not much going on in November so maybe I should just enjoy a chill month.
I'm reading the Harry Potter illustrated editions out loud to the kids so maybe I'll get lots of reading done with them. Maybe... Rachel and I are on Book 2 and Sam and I are about to start Book 4.
What else is new...
I think that's about it. I can't think of anything new.
Last month I read almost every single WUW post on the link up and I hope to be able to do that this month too so I'm off to read now... Happy Wednesday!