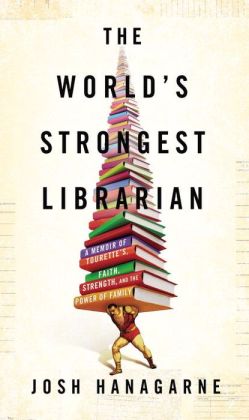 I really don't remember who alerted me to the fact of this book's existence but I want to track them down and thank them. I'm pretty sure it was one of you, so if you've blogged about this book, please remind me. I actually searched through the blogs of some of the likely suspects (
Tiffany
?
Kelly-Belly
?
Shoshanah
?) but couldn't find any mention of it. This book is a must read for anyone who loves libraries, books or interesting memoirs.
It brought home to me the reality of living with Tourette's. I thought people with Tourette's just swore involuntarily at inconvenient times. Josh Hanagarne leads the reader through his daily, hourly, minute by minute struggles of dealing with, not only inconvenient, but often painful tics.
I also loved the stories Hanagarne related of working in the Salt Lake City Public Library System. I'm pretty sure the employees at my local library don't deal with the range of people Hanagarne encounters in his daily routine. And I loved how each chapter was categorized by the Dewey Decimal System.
Just because someone has an interesting story, doesn't mean they are a good storyteller, or a good writer. I think Hanagarne is able to do both. This isn't always an easy read, but it is definitely worth it.
And again, if you are the blogger who first wrote of this, let me know so I can re-read your comments and add my affirmations of this book's awesomeness to your post :)