This was another book recommendation I got from Erika's post about her
book club
. It tells the story of Lou and Will. Lou is honest, funny, and brave, but she is living a rather small life -- she still lives with her parents, is dating a guy who isn't all that nice, and doesn't venture outside her small town. Will is a quadriplegic after being in an accident. Before his accident Will traveled, and pursued every adventure he could. Will is understandably bitter and determined. This is the story of how Will and Lou meet and change each other's lives.
My library hold came in as an e-book first. This is important because I have discovered that, for some reason, I read books faster on the iPad. So I started this one night as I was putting Sam to bed. He likes someone to sit with him until he falls asleep so I often do something on the iPad during that time. By the time Sam fell asleep, I was about 100 pages in and hooked. Dave and I started an episode of Downton Abbey but about twenty minutes in I told him, "I can't concentrate on this. I just want to get back to my book." And then I read until I was finished. And I cried. A bunch.
This would be a good time to share one of my favourite someecards because this was one of those books: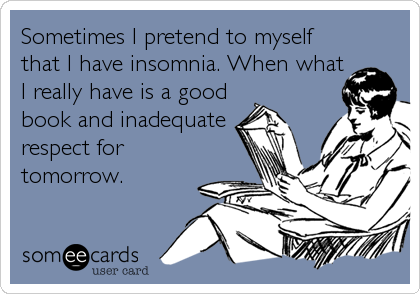 I didn't know what to expect from this story. It grabbed hold of me and wouldn't let go. It raised a whole bunch of issues about love, quadriplegics, pain, and life. I finished it over a month ago and I'm still thinking about it. And I've read a whole bunch of other books since then. I want to share it with my book club because it's one of those books you just need to talk about with someone after you've read it.
This book was truly funny and truly sad. There were lines that made me laugh out loud. I want to take this quote and write it in my day planner every time I plan something for my family because it is SO TRUE: "Want to know the true definition of the triumph of hope over experience? Plan a fun family day out." -- p 238 (e-book edition).
So if you are okay to cry a little, laugh a little, and to think about some tough issues a lot, this is definitely a book I'd recommend.