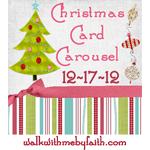 Today I'm linking up with
Faith
for her Christmas Card Carousel and I'm also linking up with
Kelly
on Friday for her Show Us Your Life series. Welcome to anyone stopping by from either of those two linky parties.
Dave and I haven't always done cards but some of my friends clued me in to Costco's website. Making a card from there couldn't be simpler -- you simply choose your design, upload a picture, add a message and click to order. Plus you can pick your cards up the next day and they are very reasonably priced. This works out well for Dave and I.
We would love to do separate Chanukah and Christmas cards but we don't have enough of each group of people for the minimum order of 50 so we do a generic holiday card for everyone. I always try to coordinate (a little) our outfits and we try to get a recent family picture. This year our picture was taken on Sunday morning at church, in front of the stone wall in our sanctuary. Our card looks a little weird in this post because Dave had to scan it at work but in reality it is actually quite nice!
The one thing I am really happy about is that this year it only took one take to get a decent picture. Last year was a whole different story and you can see the outtakes
here
!
I'm off to check out all of your cards but before I go I want to wish you Merry Christmas! Happy (Belated) Chanukah! Whatever holiday you are celebrating this season our wish of peace is also for you.
EDITED TO ADD: I actually wrote this post on Friday morning in preparation for these blog parties. I just want to add, given the horrific events in Newton, Connecticut on Friday that our wish for peace feels even more urgent. Having a son who will be starting school in the fall, this tragedy has hit close to home, a feeling shared by many of us, I'm sure. Please take a moment to offer up a prayer of comfort for those who lost family members, especially their children.